I just joined! What's next? How do I use Forks Meal Planner?
Welcome! We're excited to have you here with Forks Meal Planner! Should you have any questions as you go along, please email support@forksmealplanner.com or message the team from your account messenger.
Join us for a Zoom Walkthrough Webinar that takes you through the ins and outs of your Forks Meal Planner. Sign up here!
The following guide will show you the basics from logging in to your free trial to your premium access. We're confident everything will become more familiar as you explore and try everything out!
(1) Logging In: To access your Meal Planner, please go to my.forksmealplanner.com and sign in using your login credentials. You can do so from any device. From here, you can stay logged in and/or create a bookmark for convenience. You can also access your account via the free dedicated Forks Meal Planner app for your iOS or Android mobile device.
(2) Main Pages:
Here are your four main pages (with corresponding photos):
Plan Dashboard, which will feature your weekly meal plan (past, current, and new). You can select any Weekly, Custom, or Featured menu. Follow it as is or modify it to include the recipes you'd like to enjoy!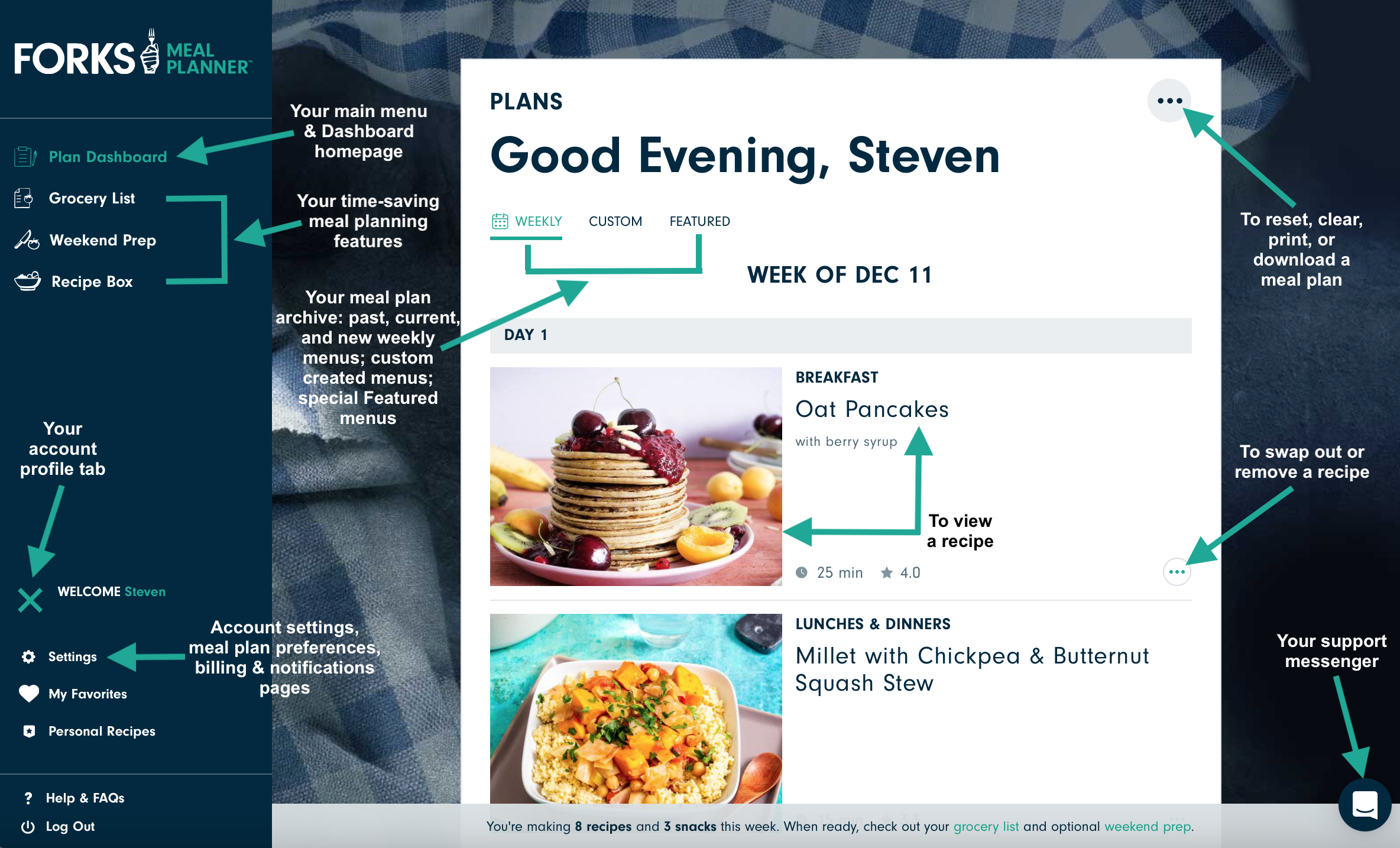 Grocery List, which features the ingredients of recipes in your current meal plan. You can check these off if you already have them at home and also as you go shopping. You can download/print out a list if that's helpful.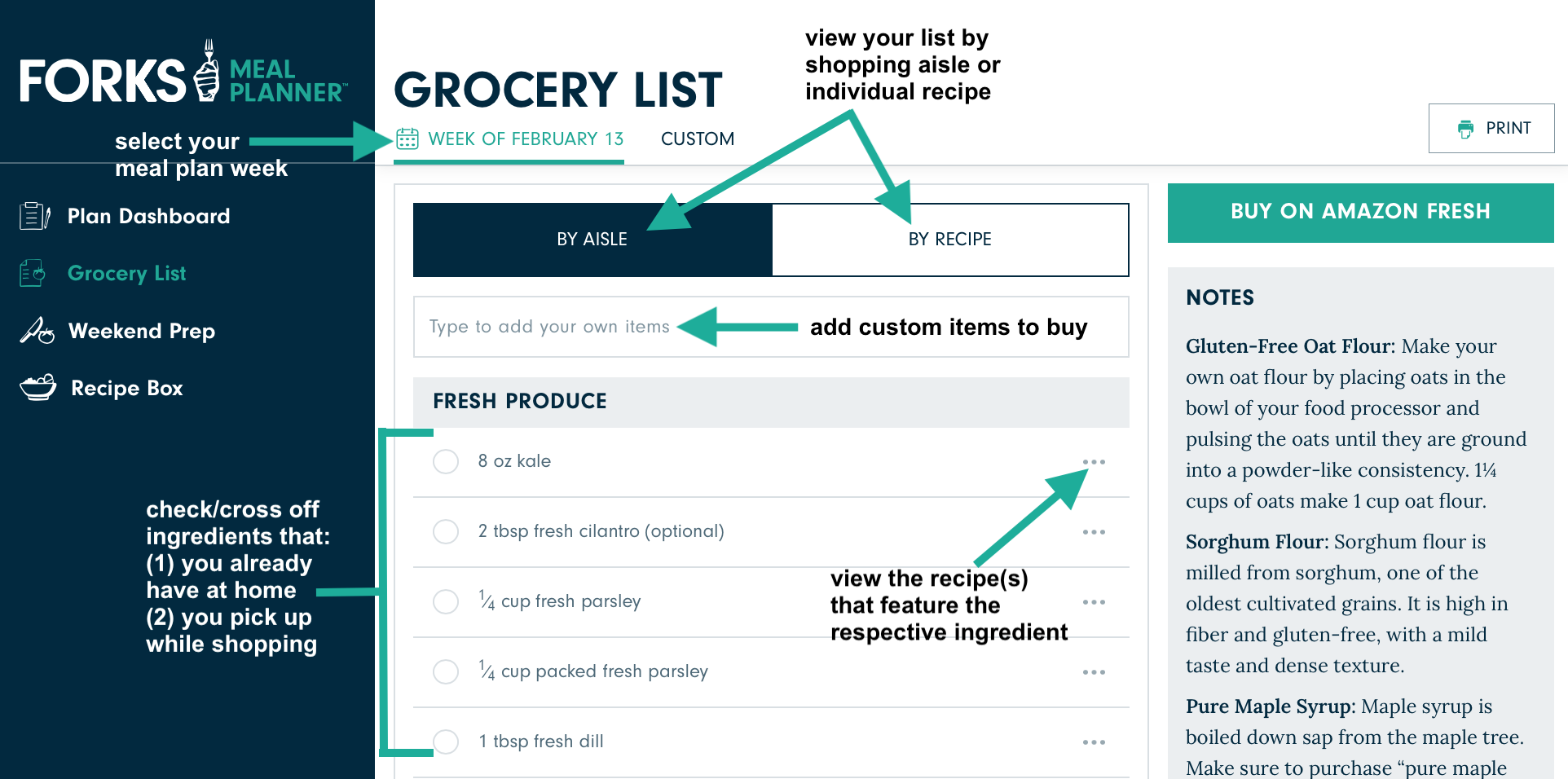 Weekend Prep, which features optional prep items that you can do on the weekend (or prior to your meal plan's main cooking schedule) to optimize your time ahead. After prepping, you can follow the corresponding storage instructions and have parts of meals all ready to go - a true time-saver during the week!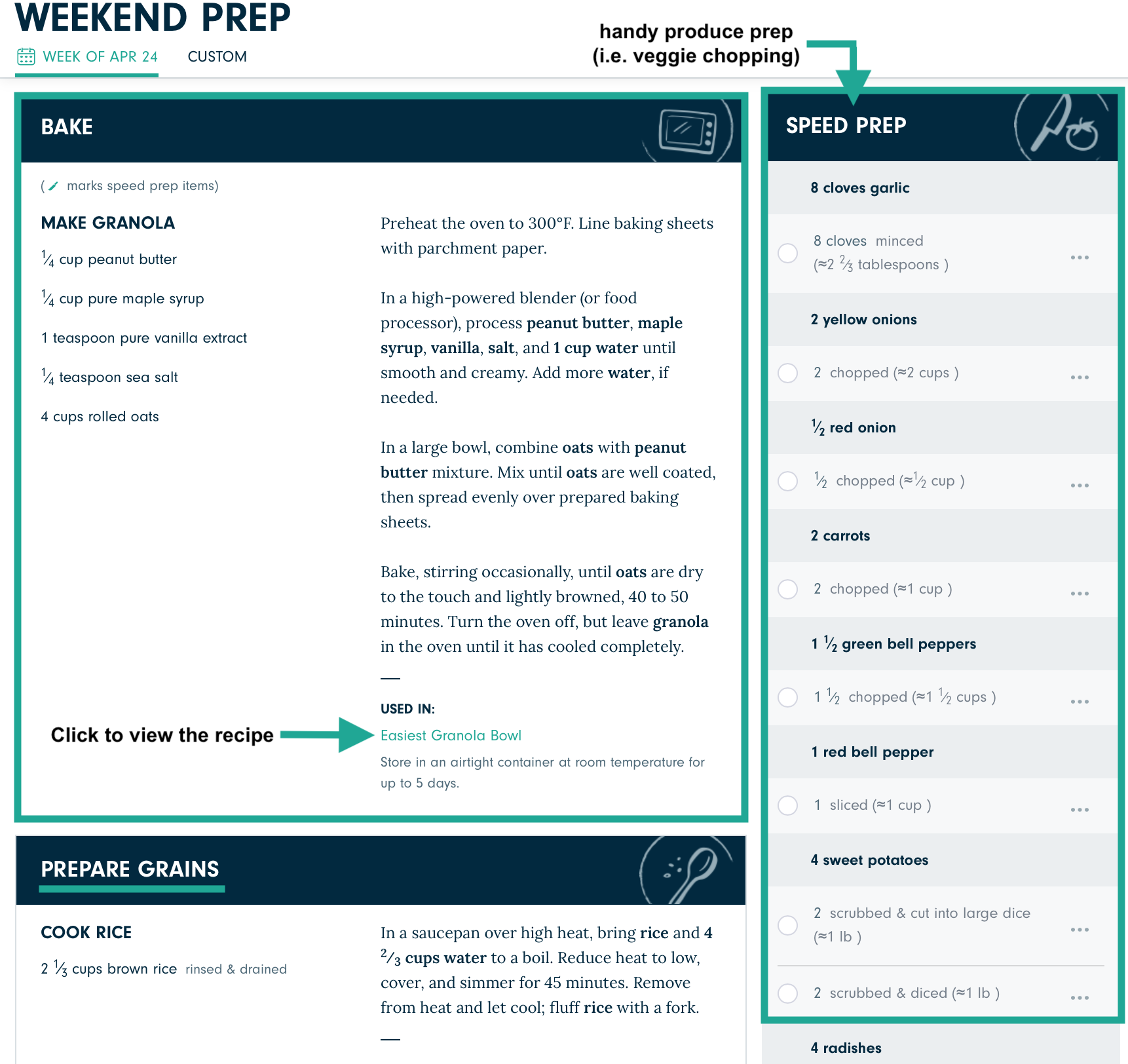 Recipe Box, which features all recipes in your FMP. You can use the search bar and filter features to narrow down your recipe selection.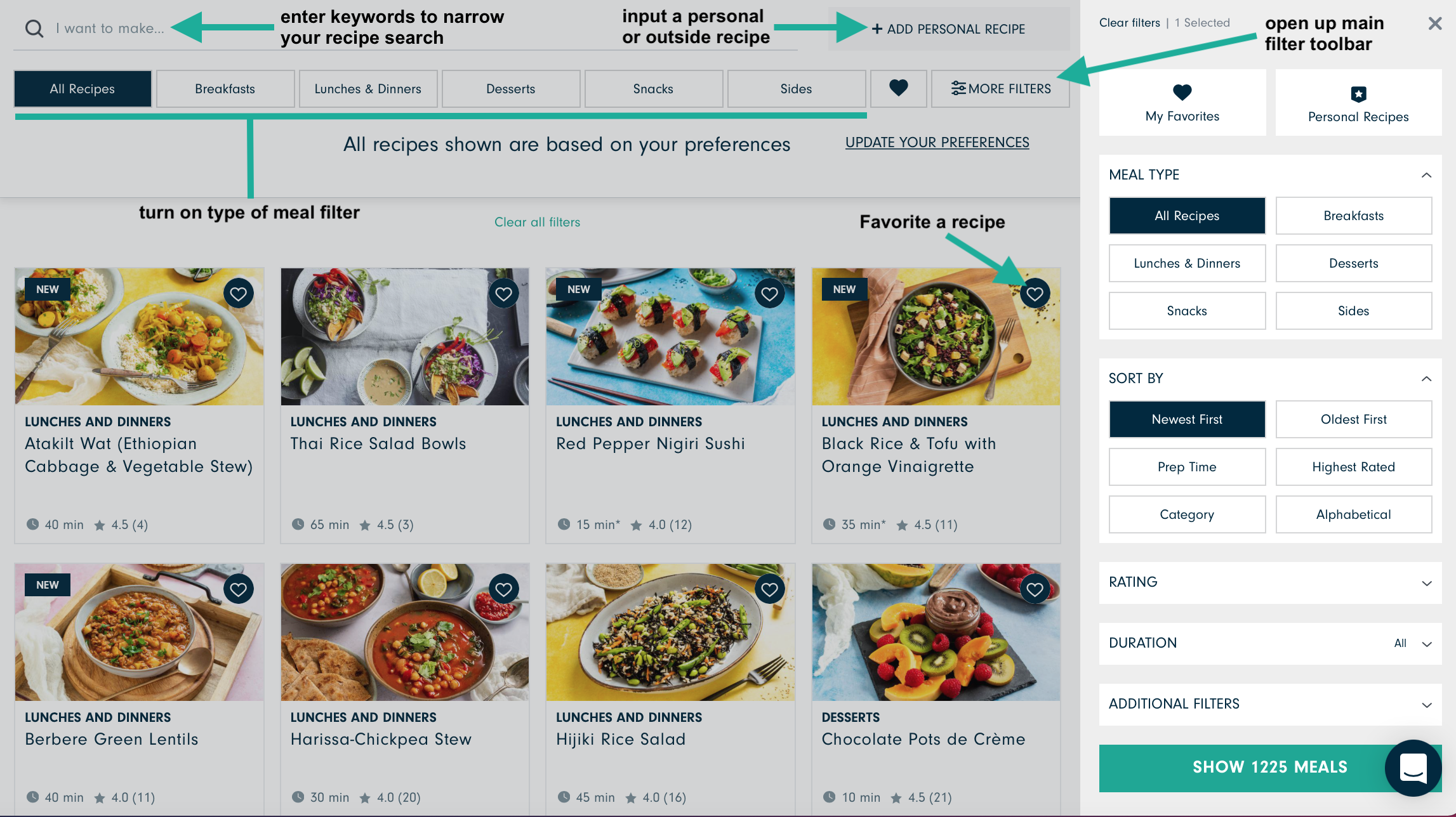 (3) The free trial Forks Meal Planner features the current setup:
Your initial free trial features one meal plan and 60 recipes to choose from in your Recipe Box. You can use your Starter Plan and starter recipes as much as you'd like during this trial period. We encourage you to add, swap out, and remove recipes, create custom meal plans, adjust your preferences, and beyond! All of the beneficial meal planning and search + filter + customization features are there to make sure your Meal Planner can be tailored to suit your needs.
When you go to your Recipe Box (https://my.forksmealplanner.com/recipe-box), you'll find the first 60 recipes are all accessible with your free trial access!
(4) The main premium Forks Meal Planner features the current setup:
Each week, you will receive a new weekly meal plan with recommended WFPB recipes based on your selected preferences. All meal plans are accessible from your Dashboard dropdown menu.
You can follow your menu and/or customize - adding, swapping, and removing recipes. All menus, recipes, and lists are downloadable or printable as you wish.
You will get an automatically generated Grocery List from your menu AND an automatically generated Weekend Prep list, with helpful tasks to do prior to cooking.
Your Recipe Box features 1400+ WFPB recipes to enjoy at any time. You can search keywords and use different filters to narrow down your selections.
You can change your settings to accommodate the number of servings you want, scheduled meals, and some intolerances.
For scheduling purposes: upcoming "next week" meal plans will release for preview on Thursdays - for viewing, customizing, shopping for ingredients, doing any Weekend Prep, and then starting Day 1 on Monday. Meal plans will cycle in your meal plan archive on Sundays. 
---
---