How do Forks Meal Planner and the New Year Reset work together?
Welcome to your New Year Reset! Whether you're a longtime Forks Meal Planner susbcriber or a newbie, the New Year Reset is a chance to recommit to healthy plant-based eating and connect with others who are doing the same.
This free two-week eating plan works hand-in-hand with your Forks Meal Planner, helping you to start the new year on an empowered, inspired, and deliciously convenient path.
You'll receive a six-part, spam-free email series between filled with inspiring and educational content, including tips for:
a fridge and pantry makeover
losing weight on a plant-based diet
making healthy habits stick
and more!
Your Forks Meal Planner will feature two weeks of New Year Reset Featured meal plans, specially curated to focus on our easiest and tastiest recipes. These meal plans can only be viewed via web, though they can be saved as Custom Plans for your mobile app viewing and use. Please note: Custom Plans require a premium subscription for mobile app use.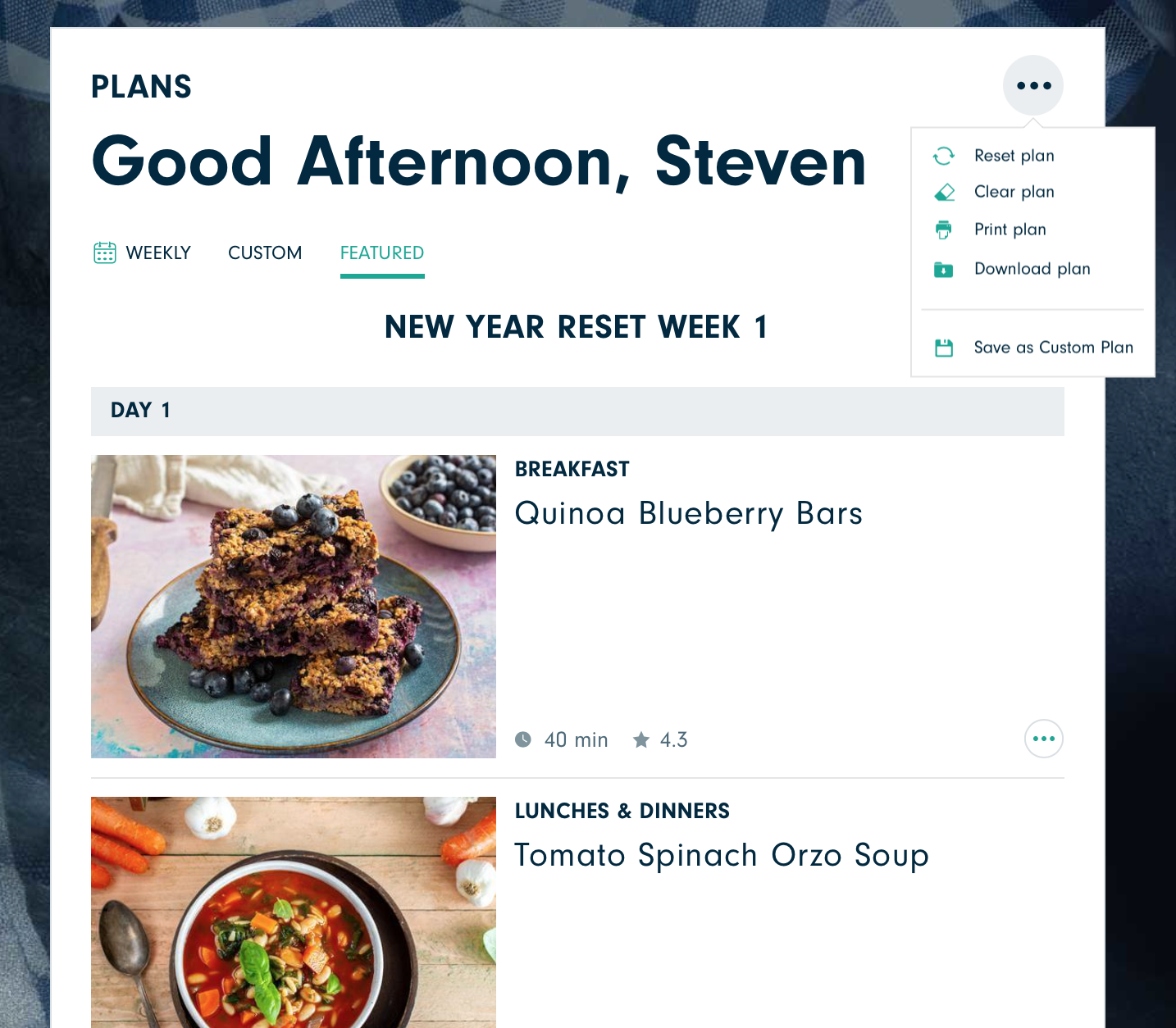 Along with these menus, you'll be supported by an exclusive meal prep tutorial from Caryn Dugan, founder of the Center of Plant-Based Living in St. Louis (and administrator of the Forks Meal Planner Subscriber Community Group on Facebook).
To get more familiar with your FMP (or sneak in a handy refresher about features and free trial vs. premium offerings), please check out the Forks Meal Planner Overview.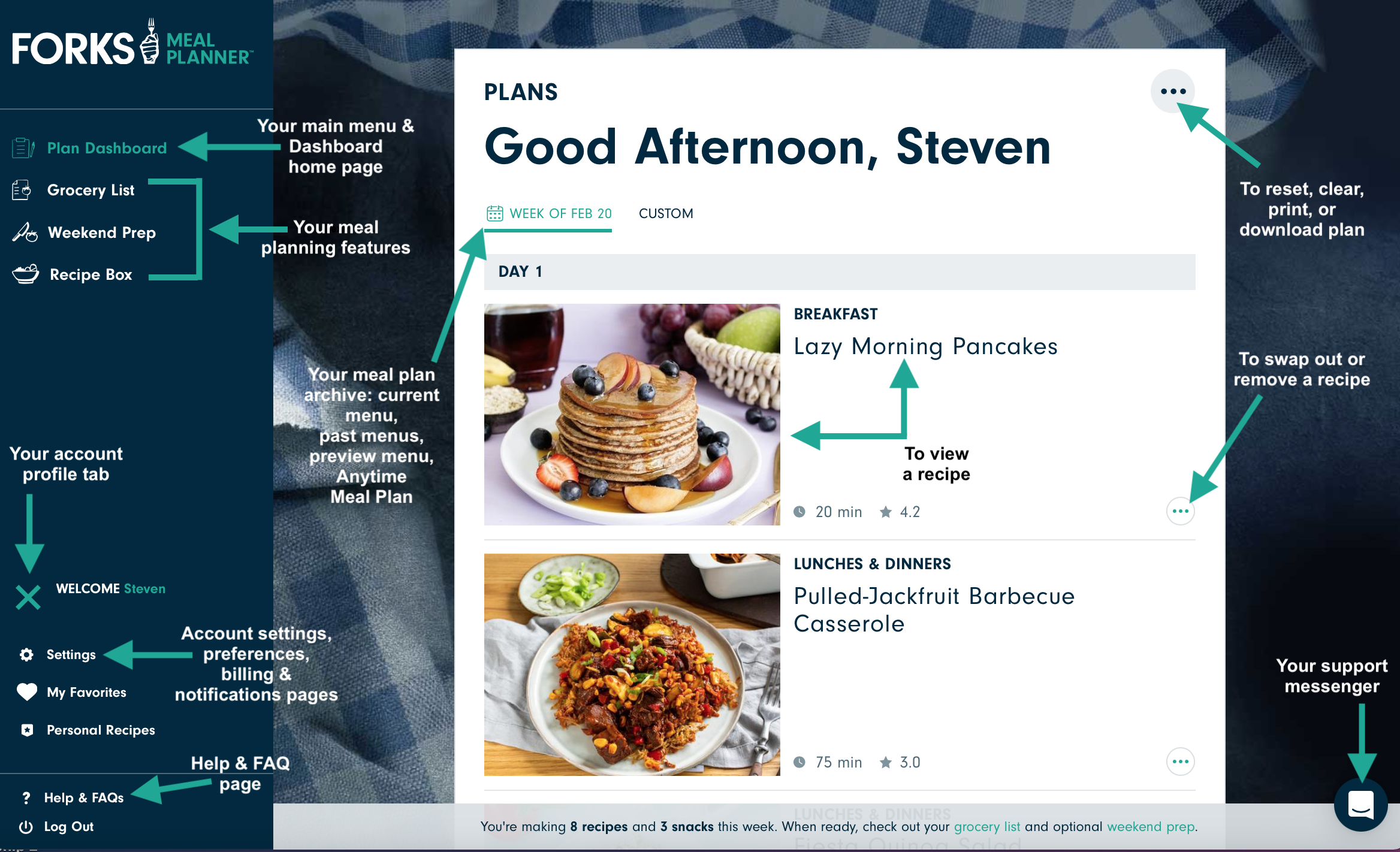 The FMP Subscriber Group and Forks Over Knives Official Plant-Based Group will be your supportive community forums, where you can share meal photos & meal planning suggestions, ask questions, and connect with other folks who are starting their plant-based journeys.
As you follow along, we encourage you to reach out with questions and to let us know about successes and challenges experienced! You can connect with us anytime via your account messenger or email (support@forksmealplanner.com).
____________________
New Year Reset Meal Plan Schedule:
Week 1 - Thursday, December 29th: the 1st Featured meal plan + Grocery List + Weekend Prep releases; customize, shop, prep and get cooking on Monday, January 2nd through Friday, January 6th
Week 2 - Thursday, January 5th: the 2nd Featured meal plan + Grocery List + Weekend Prep releases; customize, shop, prep and get cooking on Monday, January 9th through Friday, January 13th
If you start your New Year Reset after its original start date, no worries! You can begin and follow your two weeks of Featured meal plans through January:
Start planning for the Week 1 ahead on Thursday, January 5th; Week 2 - Thursday, January 12th
or Week 1 - Thursday, January 12th; Week 2 - Thursday, January 19th
or Week 1 - Thursday, January 19th; Week 2 - Thursday, January 26th
or Week 1 - Thursday, January 26th; Week 2 - Thursday, February 2nd
or Week 1 - Thursday, February 2nd; Week 2 - Thursday, February 9th
Contact us if we can help you get on track with your emails and meal planning schedule: we're here for you from start to finish and beyond! 🤩
---
---